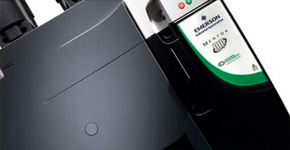 The Ultimate DC drive
Mentor MP is Control Techniques 5th generation DC drive and integrates the control platform from the world's
leading intelligent AC drive, Unidrive SP. This makes Mentor MP the most advanced DC drive available, giving optimum
performance and flexible system interfacing capability

Upgrading your control system.
There are large numbers of DC motors in service throughout the world in various applications, the majority
of which are easily capable of providing continued service. Upgrading your drive allows you to maximise the motor
performance, enhance system reliability and interface digitally with modern control equipment using Ethernet
and Fieldbus networks. Downtime is minimised as only the drive needs to be replaced.